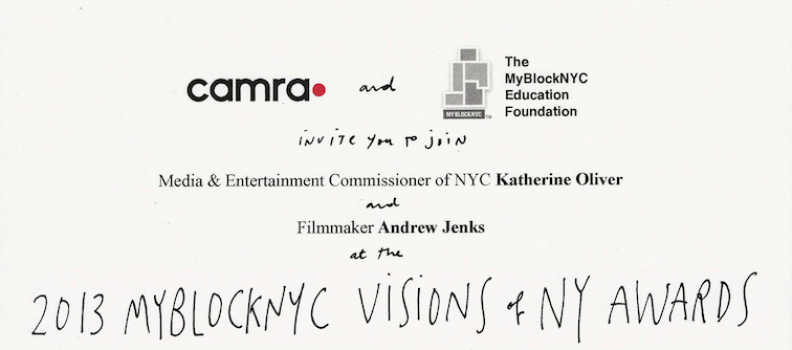 In Screening Posted
Every year The MyBlock Education Program celebrates the strongest student work produced by our students at The MyBlock Visions of NY Awards!
On Wednesday July 10th 2013, The MyBlock Education Program, in partnership with Sony Wonder Technology Lab,, took audiences on a journey through New York City with the best short documentary films produced by NYC high school students.
A poetic and revealing glimpse into the lives of NYC teens and the neighborhoods they live in, these videos explore how families cope with violence in their communities, ask us to consider the effects of Hurricane Sandy, and present personal reflections on place, time, and identity.
Students shared their work for the first time with an audience and networked with fellow filmmakers to discover future employment opportunities in the NYC film and television industry. NYC Film Commissioner Katherine Oliver delivered opening remarks and award-winning filmmaker Andrew Jenks presented student filmmakers with MyBlockNYC Vision Awards.
Films & Awards
Directing Award: Bronx High School For The Visual Arts – "My Familia" by Kassandra Luyando
Casting Award: Academy For Careers in Film & Television – "Bryant Park" by Levi Castle & Daniela Collado
Editing Award: Bronx High School For The Visual Arts – "Corsa Avenue" by Jasmine Stackhouse
Metropolitan Award: Newcomers High School – "Jackson Heights" by Sarawat Juthy
Journalism Award: Bronx Leadership Academy – "Jamaica in the Bronx" by Jade Minott
Journalism Award: Academy For Careers in Film & Television – "Marine Park" by Gilbert Rivera
Close-Up Award: Bronx Leadership Academy – 'Everyday Life" by Esther Hidalgo
Humanism Award: Bronx Leadership Academy – "Abuela's Block" by Gabrielle Heskey
Cinematography Award: Richmond Hill High School – "Rockaway Beach" by Ivan Gamba
Spirit Award: Mott Haven Village Preparatory School – "James's Block" by James Fernandez
Visions Award: Jacqueline Kennedy Onassis High School – "Realizations of Home" by Mariales Diaz
Read More